**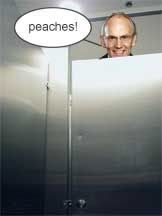 CHICAGO (Reuters) – Former Sen. Larry Craig has ended his effort to void the guilty plea he made following his 2007 arrest in a men's toilet sex-sting operation, his lawyer said on Thursday.
The Minnesota courts have denied the Idaho Republican's appeals asking that he be allowed to withdraw his disorderly conduct guilty plea, which was processed by mail much like a traffic ticket.
Another appeal to the Minnesota Supreme Court would have been fruitless, because the case did not raise significant or novel issues, Craig's attorney Thomas Kelly said.
The three-term Republican's term ended this week, and he has returned to Idaho, Kelly said.
Con't
Thanks Brett,for the pic.. :)
"Hello to our friends and fans in domestic surveillance."