Official proclamation, June 2003:
THE WHITE HOUSE
Office of the Press Secretary
June 26, 2003
STATEMENT BY THE PRESIDENT
United Nations International Day in Support of Victims of Torture
"The United States is committed to the world-wide elimination of torture and we are leading this fight by example.
I call on all governments to join with the United States and the community of law-abiding nations in prohibiting,
investigating, and prosecuting all acts of torture and in undertaking to prevent other cruel and unusual punishment.
I call on all nations to speak out against torture in all its forms and to make ending torture an essential part of their diplomacy."
-- The Number One Torturer in the World,
Lying,Lying,Lying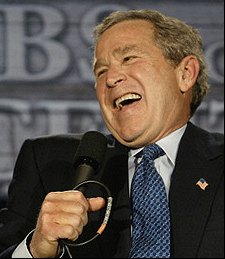 "Heh heh - Think they bought it?
www.bartcop.com
"Hello to our friends and fans in domestic surveillance."